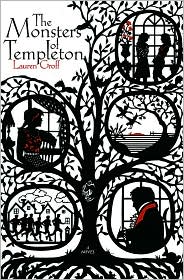 God, sometimes I love my job! I commute two hours to and from work every day, and given current traffic conditions in the Austin area, you can go ahead and add at least another half hour to my drive home. I'll sometimes stop and grab a burger for dinner, going through the drive-through and then sitting in the parking lot to eat. I always have a book in the car, so this gives me a little uninterrupted reading time while I finish my burger.
Most times, this takes 20-30 minutes. But every once in a while I hit a book that grabs hold and won't let go. Currently, that's Lauren Groff's debut novel
The Monsters of Templeton
.
I loved the cover as soon as I saw it, and when I read the
catalog copy
, I knew I had to read it. A couple of chapters in and I was gone, completely caught up in Templeton and its denizens, past and present. I was as eager as Willie to unravel her tangled family history, and logic lost all hold on me:
[Logic] You should get going.
[Me] (muttered while reading) Um hmm.
[Logic] You've still got 75 miles to go.
[Me] Um hmm.
[Logic] You can read the book when you get home.
[Me] Um hmm.
[Logic] You're not even listening to me, are you. You're just going to keep reading until you finish the book, and we won't get home until eleven o'clock. The cats are gonna be pissed, you know.
[Me] Um hmm.
[Logic] *sigh*
I came to myself an hour later, with tears in my eyes and a big, goofy grin on my face, thinking that I couldn't wait to tell someone about this amazing book.
It's part domestic novel, part historical fiction, and part mystery, with a dash of the supernatural for flavor. It's sad and funny and sweet and somehow realistic and dreamy at the same time. Stephen King compares the book to Ray Bradbury's work, and I have to agree. There's something in this story that just slips past my logic and connects with me, and Bradbury has that same effect.
As if this wasn't enough, it's also closely tied in to the works of James Fenimore Cooper (Templeton was a pseudonym that Cooper himself used for Cooperstown). I'm not familiar enough with Cooper's work to judge the accuracy with which this material is tied in, but I can say that for someone unfamiliar with Cooper, it worked just fine.
This is the fourth book I've read recently that's knocked me for a loop, and oddly, they're all coming out next February:
The Somnambulist
,
The Resurrectionist
,
Charlatan
, and now
The Monsters of Templeton
. I have no idea why February 2008 holds such an embarrassment of riches, but I'm grateful.