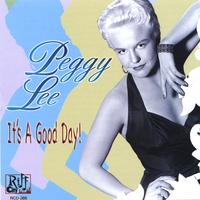 I was talking to my friend The Nooge the other night, and he mentioned that his recent DVD viewing choices were all pre-1950s, and he was really enjoying spending time in a different era, time-travelling, if you will. I felt (as I often do when I talk to The Nooge) like I had found a kindred spirit. My movie/TV choices are more modern, but my CD collection is dominated by the singers and bands of the 20s, 30s, and 40s.
I'm not sure why these songs and singers speak to me so clearly, but my mother did play the piano, so she had songbooks with all the old standards. Maybe she used to play and sing when I was small, but I don't remember it. I
do
remember the car radio set unwaveringly on 102.3, the easy listening station out of San Antonio, and my absolute hatred of that station. As I got older she started playing for weddings and receptions and church functions, but although she could play a variety of styles, given her druthers, she tended towards the more easy listening side of things. But occasionally she'd play something like "Boogie Woogie Bugle Boy" or "Darktown Strutter's Ball," and I was enchanted. I would beg her to teach me to play "St. Louis Blues," or "The Entertainer," (I took piano lessons as a child, but never practiced because I hated the songs I had to play) and she would patiently play through it until I could make enough sense of the notes on the page and where my fingers were supposed to go to sit at the piano on my own and obsessively practice till I got it right. To this day I'm a sucker for the sound of piano boogie, and when I regret not trying harder to learn the piano, rather than some songs, this is the kind of music I'm wishing I could play.
Although I still love my ragtime and boogie, I've grown to appreciate the standards she used to enjoy as well, as evidenced by the proliferation of CDs by Peggy Lee, Rosemary Clooney, and Ella Fitzgerald in my collection. I've bought tribute albums to Cole Porter and Irving Berlin. I've got Fats Waller and early Bing Crosby and enough Glenn Miller to choke a horse. I can (and often do) spend days listening to nothing but pre-1950s recordings.
I never really associated my love of this kind of music with my Mom--I listen more often and to a much wider variety than she did--but every so often I hit a song like "Goody, Goody" and all I can remember is hearing her playing that song on the Genie Magic Organ as background music at some function or another, and I realize how much influence she really did have. Even though it didn't start out that way, maybe my continued love of the genre is a way to feel close to her. She's been gone for a couple of years now, but as long as I have the music (and the Genie Magic Organ), a part of her will always be with me.